The holidays are upon us, and it's time to get shopping done. The media says to get your shopping done early due to short supply, but we like to get ours done early to avoid crowds. Online shopping is quickly becoming the preferred method of gift shopping, and this is a great place to do it. There are gifts for everyone from grandpa to your friend or neighbor, and all those in between. Whether you need to get someone you barely know a gift, or your best friend that you know better than anyone else, we've got you covered.
Shop for great gifts like essential oil diffusers, Himalayan salt lamps, and even bath and beauty products. We also offer amazing stocking stuffers like chewing gum and chocolate bars, and even teas and essential oils. Follow this Holiday Gift Guide and you'll be set for gifts this holiday season. Shop online with us, or at any of your favorite Mother Earth Natural Health locations.
Great Gifts for Everyone
Essential Oil Diffusers are a perfect gift for anyone. Essential oils can be diffused into the air to create a sense of calm, improve clarity and focus, and can help boost your mood depending on which oils you use. These can even be great for clearing airways and breathing easier, and can support a healthy immune system. We have beautiful decorative diffusers that will look good in any room of the house, and we also have fun ones that kids will adore! Check out all of our diffusers in store or online.
Himalayan Salt Lamps are a beautiful gift that will be cherished by the receiver, and can benefit their health too. Salt lamps can help alleviate allergies, raise energy levels, and boost blood flow. They are also known to cleanse, deodorize, and purify the air. These gorgeous lamps come in all shapes and sizes, and we even have them in smaller sizes that are perfect for a nightlight. The larger lamps will be beautiful décor in any room of the house, and are a great source of light. Our salt lamps can be found in any of our stores, or you can call us up if you wanted to shop online! We have one in almost every room of our homes, and always get compliments when company comes over. We also have Himalayan Dry Salt Inhalers available that help boost overall respiratory strength and lung capacity.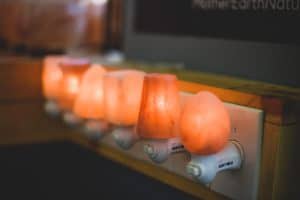 Essential Oils may be small, but they pack a punch and last a good while. We carry the Plant Therapy essential oil line, which is very high quality. Essential oils can be used for aromatherapy, diffusing, skincare, cleaning, and many other great things.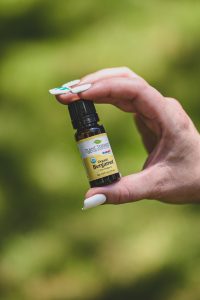 Also available are MONQ pens, which are personal aromatherapy vape pens, and are in a variety of scents.

Gifts for Bath & Skincare Lovers
Who doesn't love skincare products for a gift? Ours are all made with natural, high quality ingredients that are healthy for skin. A great gift idea would be to make a basket with a few different items to give them the experience of incredible self care. Here are a few different options:
Bath Bombs (come in Lavender, Coconut Lime, Amber Bergamot, and Eucalyptus)
Soap (also come in Lavender, Coconut Lime, Amber Bergamot, and Eucalyptus)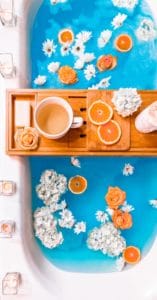 Slumbering Bath Soak with Chamomile and CBD from The Brothers Apothecary
Renewing Facial Cream with Rosehip and CBD from The Brothers Apothecary
Enriched Body Butter infused with Green Tea and CBD from The Brothers Apothecary
Brothers Apothecary Soothing Green Tea Body Butter
Energizing Sugar Scrub with Earl Grey and CBD from The Brothers Apothecary
Essential Oils are a popular ingredient for D.I.Y. skincare products, and our wide variety will make any skincare lover happy.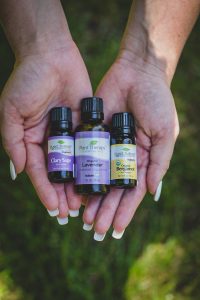 Gifts for Athletes
Athletes work hard, and they deserve to rest, relax and recover. We have some wonderful gift ideas for the athlete in your life.
CBD Bath Bombs to help them rest and relax after a long, strenuous workout. Choose from four incredible scents.
Recovery CBD Gummies from Charlotte's Web are specially formulated with ginger and turmeric to help your muscles recover after a workout.
CBD Sparkling Waters from CBD Living Water are packed with energy-supplying vitamins, CBD, and amazing flavor. There are six delicious flavors to choose from: Apple Ginger, Strawberry Lavender, Black Cherry, Peach Honey, Mango Guava and Orange Grapefruit.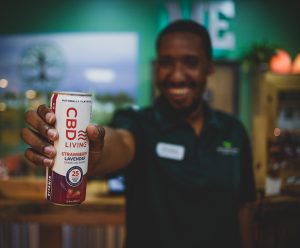 Topicals are one of the best things that have happened to the exercise community. Topicals come in the form of a lotion, ointment, or balm and are totally mobile. They are great for traveling, keeping in a gym bag, or anytime someone gets muscle or joint aches. Most of our team members have one at all times! Choose between a variety of topicals here.
Gift Cards are always a great gift idea so that the athlete in your life can get their favorite relief.
Gifts for Your Pet
We can't get through the holidays without getting something for our most trusted partner. We have some great gifts for your pet from treats, to hemp oils, and even essential oils.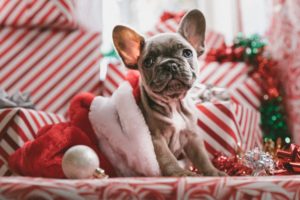 Pet Treats are always a win, right? A CBD treat before a stressful event like thunderstorms or fireworks can help keep your pet calm through the storm. This is a great way to take your pet's CBD on the go, or for some relief whenever they may need it. We have pet treats for both dogs and cats from Medterra, bacon-flavored CBD soft chews. We also have some great dog treats from Huron Hemp, Canna-Pet, and Charlotte's Web.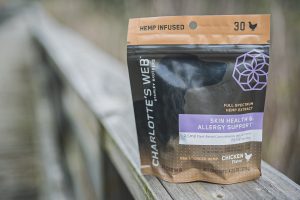 Pet Oil Tinctures are a great way to give your pet their daily dose of wellness, and to promote balance in their lives. Whether you need to promote calming for your pet, or just want to give them a daily dose of wellness, these oils are a great buy. You can administer it by putting the oil on their food or treats, or even straight from the dropper. We carry CBD oils from high quality brands like Charlotte's Web, Medterra, and CBDistillery.
Essential Oils for Petsare a very unique gift for yours, or a loved one's dog or horse. Choose between Confident K9, Show Ready, Happy Trails, and Horse Whisperer to give your pet the calmness and confidence they need.
Interested in CBD for your pet? Do you think CBD would work well for someone's pet, but they don't know much about it? Cannabis and CBD Science for Dogs is a book that will help educate your fellow dog owner on how CBD can work for their dog.
Stocking Stuffers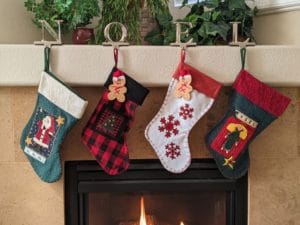 Stocking stuffers are a must, and we have some great gift ideas. Check out our list of fun and exciting stuffers:
Medterra Calm and Focused CBD Gum
Essential Oils fit nicely in a stocking, and they will pair perfectly with a diffuser or diffuser jewelry.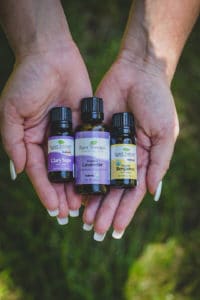 CBD Chocolate. CBD Living has excellent bars that come in both milk and dark chocolate and fit perfectly into a stocking or a small gift bag. On the other hand, we have Five CBD chocolate that can be split between a few stockings if needed.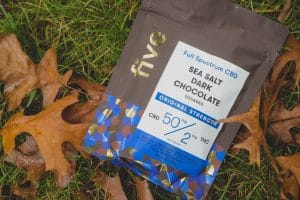 Teas always make excellent stocking stuffers. We have a variety of teas available including Golden Dream, Breakfast Buzz, Blue Moon Milk and Mighty Matcha, all from The Brothers Apothecary. What goes best with tea? Honey, Wild Rosin CBD Honey, in fact. This small jar will fit just right in a stocking.
Gold Standard Hemp Stix are single CBD pre-rolls that are a nice stuffer.
Lip Balms are always a must for a stocking stuffer. Easy, small, and always needed, especially in the winter. Farmhouse Hemp, our lip balm that is made with beeswax, comes in Vanilla Mint, Guava Jelly, Lemon Cake, and Natural flavor.
Stuffers for the Spiritual One
Diffuser Jewelry is a perfect piece of jewelry that will fit perfectly into a Christmas stocking, or a small gift bag. Our diffuser jewelry comes in all different colors and can be used with essential oils. We have beautiful necklaces and bracelets available.
Cleansing Bundles with Sage are a perfect gift for the spiritual person in your life. Nothing is better than cleansing away the bad energy, cleaning the air, and inviting in positive energy. Cleansing bundles come with white sage, a smudging shell, and a Palo Santo stick.
Individual Sage Bundles are white sage, sometimes bundled with turkey tails. We also have blue sage available.
Palo Santo Sticks are best used after cleansing with sage, but are also great for cleaning the air of negative energy.
Gift Cards are another great gift idea, in a stocking or under the tree, for your loved ones to get their favorite Mother Earth Natural Health products.
Know someone lacking in the vitamin department? See our full list of vitamins and supplements,
All the Gifts You Need
Now that you have some great gift ideas, we can help you get them. Come into any of our four locations to talk to a CBD Expert to get the gifts you need, or shop online with us at any time of the day or night. Don't forget about treating yourself, too. After all that shopping, you'll need some relief and self care! Check out our top products and our featured products to see what everyone is getting!