You may notice the new trend of CBD treats for your pet. We're here to tell you that this isn't a trend, and it's here to stay. Whether your friends and family are giving their fur babies CBD to help with aging joints, stress, or improvement of overall health, they may be onto something. There is an incredible amount of information floating around the internet, so what exactly can we believe about this new trend?

Is CBD Safe for Pets?
Pets have an endocannabinoid system just like we do. The endocannabinoid system, or ECS, is a vast and vital receptor system within human and animal bodies that is responsible for maintaining healthy balance, or homeostasis. This system is also known as the "Master Switchboard", which makes it sound very important, right?
This "Master Switchboard" is important in helping our bodies stay balanced, so it only makes sense that we support it as much as we can. Things like regular exercise, probiotics, stress reduction and even eating organic can help support the ECS. Another very important and lesser known way to support your ECS is to incorporate cannabinoids, or hemp products, into your daily routine. Imagine that the receptors in the ECS are the locks, and cannabinoids are the keys.
CBD can only have maximum THC content of 0.3%, which is way too low of a percentage for you or your pet to "get high." One of the many great things about CBD is that it is non-psychoactive, and you can get the fantastic benefits of this plant without feeling like you're on another planet. Getting your pets to use CBD can lead to so many health benefits as you are helping to support their ECS.
How can I give my fur baby CBD?
With trendsetters and CBD companies on the rise, there are many different ways to give CBD to your pet between tinctures and treats. Though CBD tinctures are the more cost effective way to go, treats and chews may be an easier method of delivery to get your pets started. You can give your pet CBD from your personal tincture, or ones made for humans, but there are plenty of products specially formulated for pets. Take a look at all the different products we offer:
CBD Tinctures

Medterra Pets CBD Oil Drops - Unflavored Available in 150mg, 300mg and 750mg. Also available in 750mg Beef flavor.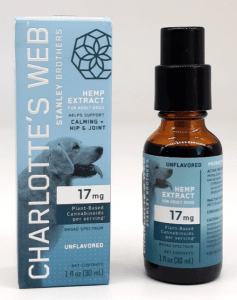 Charlotte's Web CBD Oil for Dogs available in Unflavored 17mg CBD per serving.

Pet Chews and Treats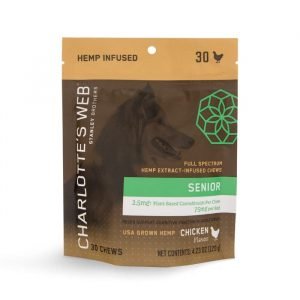 Charlotte's Web Senior Dog Chews
30 Chews per Bag, 2.5mg per chew.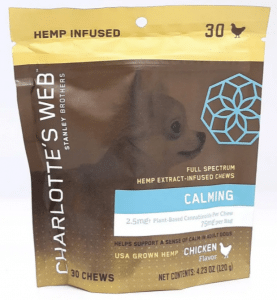 Charlotte's Web Calming Pet Chews
30 Chews per Bag, 2.5mg per chew.
Charlotte's Web Skin Health & Allergy Support
30 Chews per Bag, 2.5mg per chew.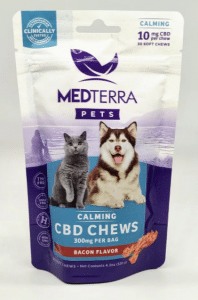 Medterra Calming Chews 10mg CBD per Chew
Medterra Joint Support Chews 10mg CBD per chew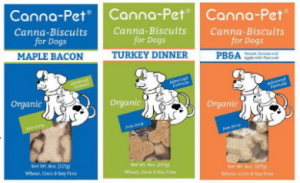 Canna-Pet Biscuits for Dogs available with 2.4mg in the Advanced Formula and 8.4mg in the Max Formula.
Topicals, for nose, skin, or paw irritation
There is a new balm by Plant Therapy that we carry called Pup and Pony Paw Balm. Though this balm does not have any CBD in it, it is great for pets that have dry and damaged paws. This balm was specially formulated to moisturize dry, damaged paws and to offer protection from the elements. The balm is made with a blend of protective beeswax, hydrating carrier oils, and soothing essential oils to help create a moisturizing barrier that will restore skin and paw health.
What dose should I give my fur baby?
Knowing what dose of CBD to give to your pets can be difficult when you're first starting out. Our CBD Experts are rigorously trained and can help with the dosing of each product.
If you would like to learn more about science and cannabis for pets, check out our informative book available in stores or online: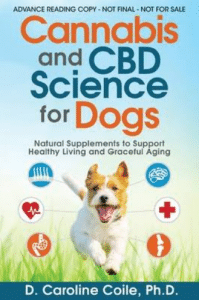 Available in-store or online
What do I look for in CBD products for my pet?
Just like humans, we should be concerned about the quality of ingredients we are giving to our pets. Finding CBD with high-quality ingredients is very important to ensure the health of your pet. All of our products are made with both high-quality CBD as well as carrier oils. A carrier oil is what manufacturers use to carry the CBD in tinctures. Our products always use a high-quality carrier oil like MCT, safflower, or hemp oil. Be sure to look at the ingredients, and purchase from a reputable source by doing your research. You always want to make sure that the product is third-party tested. Another important thing to look for is where the hemp is grown and which farming practices are used. Don't forget to do your research, and always give your pet the best CBD products!

Have you given CBD to your pet? Please comment below to tell us how it helped!
More Blog Posts About Pets & CBD:
CBD Dog Breath Mints
CBD For Your Pets - Shop Our Top Pet CBD Products Below!